January 16th, 2021 at 11:38 pm
I didn't intentionally set out to make organizing my living space such a priority for the month of January, but that's what I've been doing, and let me tell you, just the little bit I've done feels great...and greatly productive!
It began with my Hoover carpet steam cleaner. The last time I used it was over at my mother's condo. I did all her carpeting until toward the end, it seemed to not be working. I finished up, dragged it home, and stuck it in my hall closet, where it sat for OVER 5 YEARS.
I'd been wondering if it still wouldn't work if I used it, and if it didn't, I was going to gift it to someone on my Buy Nothing group, to someone willing to tinker with it. I only remember using it a handful of times.
But just the thought of having to read thte tiny mouse print instructions was a huge turnoff, but I would have to as i didn't remember exactly how to use it. I put this project on my To Do list but for weeks this particular item wasn't touched.
Inexplicably, last week, I just pulled it out and went at it. I cleaned out a filter and soon I was steam cleaning all my area rugs! Seems to work fine! The reason I thought it wasn't working is because I had noticed that while i put quite a bit of water down into the rugs, relatively little (dirty) water was sucked back up. I think that's normal now. Anyway, huge sense of accomplishment after having done that, and I'd love to get into the routine of cleaning my carpets once every 3 months. How often do you do yours?
Next, I turned to organizing in my office, which doubles as my workout room. It always seemed like such a mess in here with my yoga mat, hand weights and a huge exercise ball. always in the way. I decided I no longer need the exercise ball for my knee, so I brought that to the attic, and I reorganized my computer desk space so that i could more neatly group all my hand weights (3 sets) in another space that is, importantly, not on the floor. Not good for my back to always have to pick them up off the floor. Now I don't have to. I tidied up my computer desk and a credenza-type set of shelves, and things seem so much more orderly and attractively arranged now. I'm really taking pains to keep it that way.
I recently ordered another bamboo set of shelves, which arrived today, so I spent some time this afternoon putting it together. It was relatively easy to do, a relief. The shelves fit perfectly in my downstairs hall closet, which is off my kitchen and a somewhat under-utilized space. So now when I buy things in bulk, which often happens, the overflow can go ont these shelves and I can find things more easily in my kitchen pantry. It feels go good to be organized!
There is still more to do, and progress will continue!
I recently bought a set of flameless candles, and I absolutely love them! They are battery-operated, and since you can set them on flicker mode with a small remote, you can instantly create "ambience" and a peaceful, hygge-inducing sense of well-being. I have them everywhere. I used one in the interesting art glass vase from Buy Nothing (2nd photo down), along with some pinecones.
I also recenlty acquired this set of 4 brocade slipper chairs for my dining room table, replacing the hard wood chairs I've made do with for 25 years.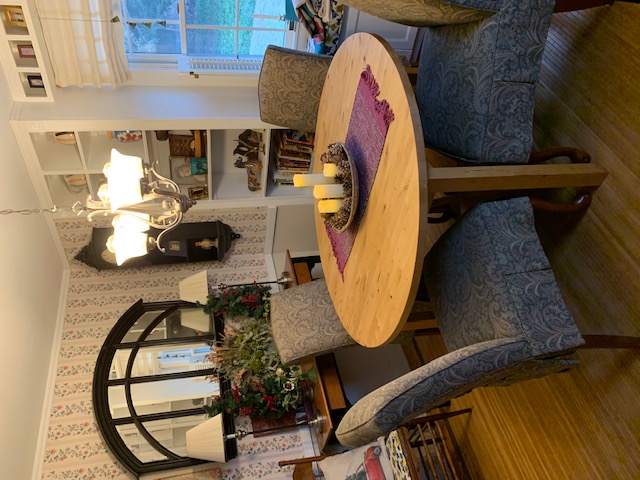 My father has complained about how uncomfortable the wood chairs were, so I can't wait to have him over again with the new set. The legs are fairly scratched up, but I plan to try those markers you can use to make scratches blend into the wood stain. Tomorrow, I'll be picking up a large round, ornate medallion-type mold, the kind that surrounds a chandelier on the ceiling. I thought it could be the finishing touch over my dining room set.
In return, I've given away a duplicate set of hand weights I had (hot item), a wall clock I realized I didn't need, a set of 9 wood cooking spoons/spatulas I never use and those 4 old wood chairs were snapped up by a young family who needed something sturdy and easy to clean. They should be picked up tomorrow.
I had an early dinner tonight and have started my weekly 24-hour fast.
Most of the Christmas decorations (which no one but myself was able to enjoy) have been put away. A few more things I hope to do tomorrow.
I made my $7,000 traditional IRA contribution for 2020, and hope to do a much smaller SEP-IRA contribution tomorrow; had to wait for T. Rowe Price to set up ACH transfers for a different bank I'm now using.
I'm getting back into the routine of nearly daily walks weather permitting. It was 8 long months for my knee to heal, but now I can walk longer distances without pain, so it was all worth it. I'm thrilled, to say the least. and I'm continuing my strength/balance exercises at home 3x a week.
I feel that all this time at home has helped me establish new routines and a structured week that regularly includes work, home workouts and walking. I cook all my meals from scratch, no processed foods.
My neighbor's ewe had triplets, and this one was born with a broken leg. He was able to splint it himself, and now the lamb lives in the Big House with them and his tenant is bottle feeding it.

Lamb's name is Tripod! How appropriate. Unable to load pic right now.